Tired of complicated project management tools that require a steep learning curve? We heard you!

We are excited to introduce our latest workshop tool enhancement that will revolutionize the way you manage your tasks with your team. Say hello to our easy-to-use Kanban template – a digital version of the familiar analog experience!
Kanban is a proven method for visualizing workflows and optimizing task management. Its hallmark is the simplicity of its design – visualizing tasks on cards, moving them across different categories, and finally reaching the finish line. Until now, the transition to digital Kanban often meant sacrificing the charm and effectiveness of its physical counterpart. But not anymore!
The perfect blend of familiarity and convenience
Our Kanban template was designed with a user-first approach. We wanted to ensure that anyone, regardless of their digital expertise, could jump right in and benefit from its power. Inspired by traditional Kanban boards, the template features a clean interface, intuitive card creation, and effortless category transitions. The familiar handling will make you feel right at home, while the convenience of the digital medium will streamline your workflow like never before.
The magic of five categories

Our Kanban template comes with five distinct categories to help you seamlessly organize your tasks:
1. Backlog: Tasks that have not been addressed
Jot down all your brilliant ideas and tasks that need to be done. No more losing track of valuable insights – all in one place.
2. To Do: Tasks that should be done next
This category is your active to-do list. The team leader moves the currently most important tasks here. You can choose from these cards the one you want to tackle next.
3. In Progress: Tasks that are currently being processed
Move your tasks here when you're ready to tackle them. These tasks should have your undivided attention. Keep an eye on them as they move toward completion. It's time to make progress! 
4. To Verify: Completed tasks that still require approval
Completed tasks that require validation can be placed in this category. Collaborators and stakeholders can review them before they are finalized.
5. Done: Completed tasks that have been approved
Celebrate your accomplishments! Tasks that have been successfully completed find their place in this category, serving as a reminder of your accomplishments.
Best of all, the template is super easy to customize. Maybe you want a "Test to" category instead of "To Verify"? By the way, the Kanban template cards can only be edited by the facilitator. This has the advantage that the participants can't mess anything up! 😉
Embrace Collaborative Efficiency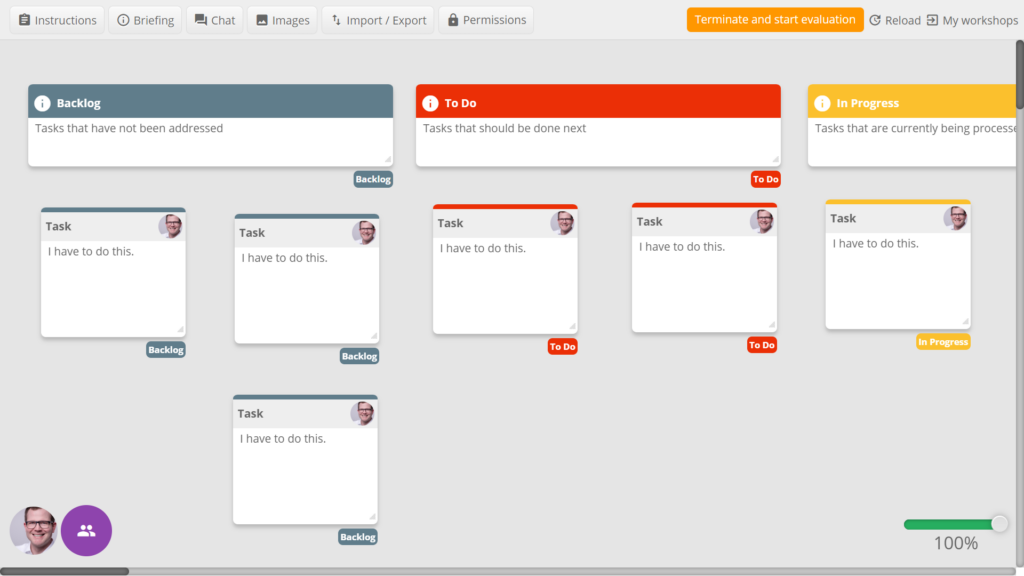 Collaboration is at the heart of our Kanban template. Team members can easily collaborate, assign tasks, and track progress. Real-time updates and seamless synchronization keep everyone on the same page, fostering a productive and harmonious work environment.
In conclusion, we are excited to bring you this Kanban template that combines the best of both worlds – the simplicity of analog and the convenience of digital. Say goodbye to cumbersome project management tools and embrace the efficiency of our easy-to-use solution.
Unlock the true potential of your projects with our Kanban template. Experience the joy of streamlined workflow, improved productivity, and a truly collaborative experience. Try it today and make your projects thrive like never before!
Are you ready for a new era of project teamwork?