Retrospective online tool for agile teams
Collect and prioritize feedback with your agile team. For SCRUM masters, agile coaches and project managers who want to get better team feedback in less time.
Agile teams IdeaClouds
Agile teams

IdeaClouds
How our Retrospectives work
Get open and fearless feedback!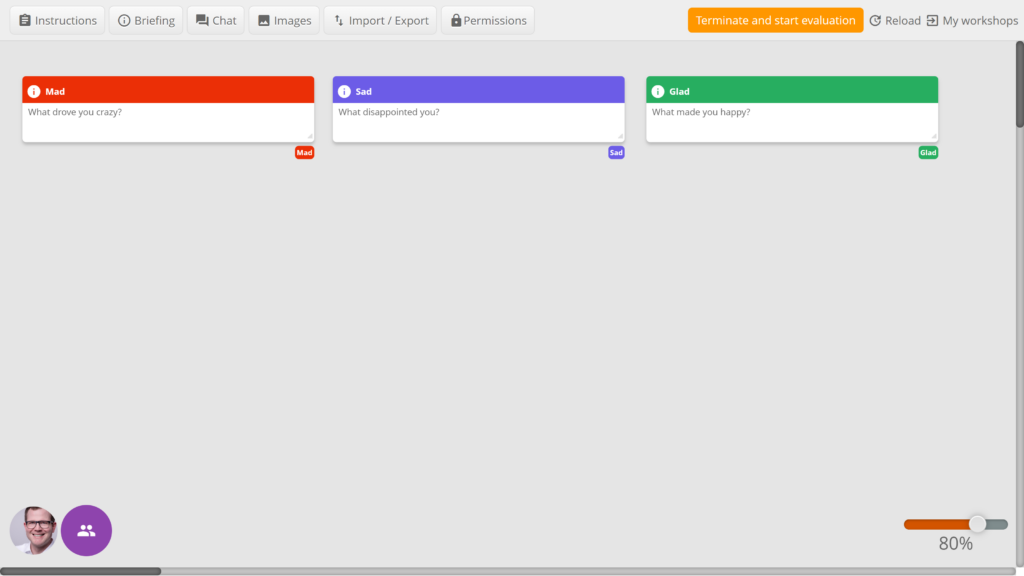 Participants write down their feedback on cards. 
Afterwards, the feedback cards can be grouped and categorized.
Each participant can prioritize the feedback cards.
The participants only see their own evaluations.
After the feedback cards have been prioritized by all participants, they are ranked. 
Documentation can be downloaded.
Proven methods for agile teams!
Experiences of our customers
Team goals previously achieved in weeks can now be achieved in hours with IdeaClouds. In addition, we save around 10,000 € travel costs per workshop.
IdeaClouds enable us to conduct online Value Analysis workshops in the most effective way. Effort and costs are minimized for participants/moderator and the easy handling leads to best results. By reducing travel activities, not only costs are saved, also the CO2 footprint is improved and this protects the environment. Many thanks to the team of IdeaClouds!
Compared to whiteboard tools, IdeaClouds allows us – and more importantly our customers – to achieve results faster and more easily in online workshops. Thanks to IdeaClouds, we were able to re-design our complete range of workshops for online use in a very short time.
Intuitive and easy to use tool. Ideal in combination with classic communication platforms. Gives us the chance to collect content before and after a meeting. One keystroke and the documentation is ready - no need to take pictures, no need to search for "who is typing the data?". A tool that makes us faster and more efficient. It gives us exactly what we need in virtual management meetings for short workshop sessions / brainstorming phases. Already successfully used for large events >50 people. Makes you want more!
With IdeaClouds we were able to reduce the duration of our innovation workshops from 3 days to 3 hours - with excellent results!
Benchtop Days bring together more than 40 people from 3 PowerTools Business Units and central purchasing once a year to discuss strategies, work on value streams and agree on team targets. In spite of Covid 19, IdeaClouds besides Skype enabled us to conduct our meeting completely virtual with attendees from 8 countries in 5 time zones (US, EU, AP), and to achieve excellent workshop results. Plus we saved about €40,000 in travel costs.
With IdeaClouds we only need 1 hour instead of 4 hours in our team workshops to achieve optimal results. We also save several hours of documentation effort and reach our goals faster - without wasting time in endless discussions.
We were afraid that we would not be able to hold our workshops because of Corona. Thanks to IdeaClouds this concern was completely unfounded! We were surprised how quickly and successfully we could involve colleagues across multiple locations and establish a new virtual workshop culture. The excellent results speak for themselves and make us forget about the cancelled on-site workshops.
Our first project with IdeaClouds was a business report. With IdeaClouds our management could bring in their ideas and prioritize proposals whenever they had time. That was perfect! We saved a lot of work and travel expenses. Also the automatic documentation of our project progress is very useful. Now we have time to concentrate on the substantial work!
Get feedback from your agile team to sustainably improve collaboration in your projects!